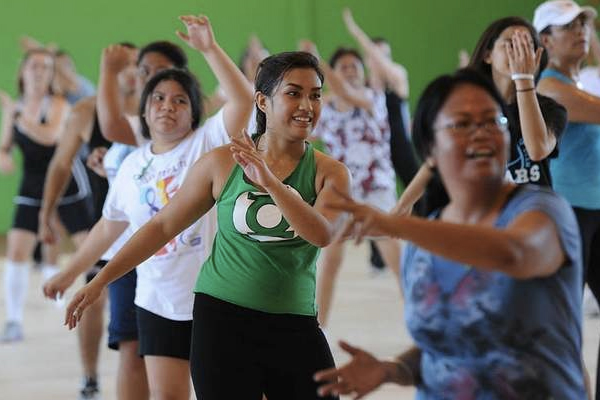 By Rachel Daniels
When was the last time you finished a workout and were begging for more? Watch the pounds shed as you dance away to the hottest aerobic classes to sweep Guam: Zumba! Classes feature exotic rhythms set to high-energy Latin and international beats. Even better, it's so easy, anyone can do it! This fever hits all ages, shapes and sizes, so there is no pressure for beginners. Guam boasts several class locations and times throughout the day, so check out a class close to your home. On vacation? Want to stay fit without the chore of exercising? Grab a water bottle and work off your jetlag with various day passes, week passes, or monthly subscriptions all at convenient locations.
Class Variations
Zumba Toning  – When it comes to body sculpting, Zumba Toning raises the bar (or rather, the toning stick). It combines targeted body-sculpting exercises and high-energy cardio work with Latin-infused Zumba moves to create a calorie-torching, strength-training dance fitness-party. Students learn how to use lightweight, maraca-like toning sticks to enhance rhythm and tone all their target zones, including arms, abs, glutes and thighs. Zumba Toning is the perfect way for enthusiasts to sculpt their bodies naturally while having a total blast.
Aqua Zumba – Known as the Zumba "pool party," Aqua Zumba gives new meaning to the idea of an invigorating workout. Splashing, stretching, twisting, even shouting, laughing, hooting and hollering are often heard during an Aqua Zumba class. Integrating the Zumba formula and philosophy with traditional aqua fitness disciplines, Aqua Zumba blends it all together into a safe, challenging, water-based workout that's cardio-conditioning, body-toning, and most of all, exhilarating beyond belief.
Locations
HAGATÑA
Paradise Fitness
(671) 635-2100/00
Call for day/week/month pass rates if not a member
Synergy Studio
(671) 472-SNRG (7674)
TAMUNING
Urban Studio
Across GPO
Only $5 per class
Micronesia Mall
FREE! at center court 6 p.m. daily
Tamuning Community Center
(Behind Lonestar/Next to GPO)
Monday, Wednesday, and Friday from 5:45 p.m. to 6:45 p.m.
DEDEDO
Paradise Fitness
(671) 635-2100/01
Saturday and Sunday all Zumba classes are open to the public
Call for day/week/month pass rates if not a member
MAITE
Synergy Studio
(671) 472-YOGA (9642)
Go to www.zumba.com to find complete listings, including on base!
AQUA ZUMBA
Mondays at 5 p.m. at the Hilton, Wednesdays at 5 p.m. at Leo Palace and Tuesdays and Thursdays at 6 p.m. at the Sheraton Laguna Resort
Times and location are subject to change. Please contact the location to confirm classes.