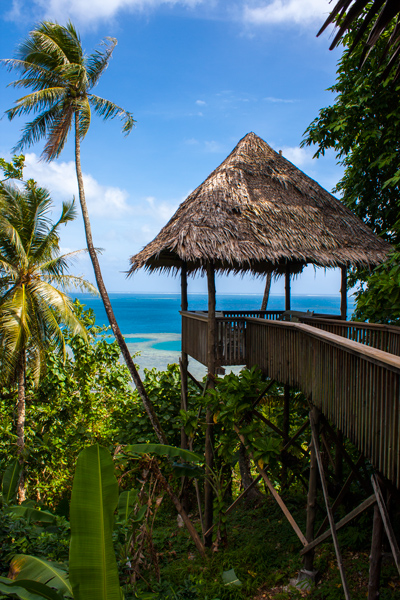 By Christy Sutton
The island of Pohnpei is the largest and tallest in the Federated States of Micronesia (FSM). An abundance of rain falls on its rugged mountain peaks, streaming into more than 40 rivers that feed the upper rain forest. Its waterfalls range from pleasant to spectacular, some with large swimming ponds. Although mangrove swamps surround most of Pohnpei's coastline, nearby reef islands boast beautiful sandy beaches.
While the island of Pohnpei beckons with its lush rain forest and varied marine life, the people are its real treasure — they are most welcoming, gentle and kind in their nature.
Lodging
Haven't you always wanted to sleep in a tree house? Then check yourself into The Village (thevillagehotel.com)! It really is the place to stay. You'll love the treetop bungalows, fully equipped with everything you need to enjoy a peaceful night's sleep — crisp clean linens, a hot shower and a fresh breeze to keep you cool. Awaken to the sound of birds as the sun rises behind the hillside. When you're ready for breakfast, the Long House is just a short walk through the jungle. The restaurant opens at 7:00 a.m. and serves delicious food all day long — complete menus for breakfast, lunch and dinner. The food, however, is only part of a fabulous dining experience since the view is absolutely breathtaking!
The Village provides complementary shuttle service to and from the airport. So, you could check in and never leave! They have several day trips that are worth considering. You just have to let the front desk know which tours you are interested in and when.
Day One
Wake up, somewhat at your leisure. The boat leaves at 9:30 a.m. and you'll surely want to start out with a hearty breakfast and a cup of coffee before you head out. After a short drive down to the water's edge, you'll board a boat, which carries 8-10 people and dive/snorkel gear comfortably. Along the way the captain will make a stop at Manta Road to see if there are any manta rays at the cleaning station. If there are, the pools open! You'll be able to dive or snorkel with the graceful mantas.
If there are no mantas present, the boat will continue on to the first dive location. A dive master will lead the way as you drift along a wall planted with black coral trees, large gorgonian fans and soft coral trees. Also present — encrusting sponges, tunicates, hard coral and a wealth of tropical reef fish. For those who want to snorkel, the captain will move the boat to a more shallow location until the divers are ready to return to the surface. Between dives, you'll stop off at a man-made island for lunch. The Village packs sandwiches or the ever-popular bento box — rice, grilled tuna, greens and polish sausage wrapped in a banana leaf, and your choice of a beverage.
After lunch, the captain will take you to a second dive/snorkel location. Both locations will depend on weather and water conditions, your preferences and ultimately the crew's choice. Along with a variety of smaller sea life, you may cross paths with Green Sea Turtles, reef sharks, Napoleon Wrasses, and Spotted Eagle Rays.
You'll arrive back at The Village around 3:30 p.m., just enough time to clean up, take a nap and refresh yourself for sunset and cocktails at the Tattooed Irishman (a.k.a. the bar at The Village). Dinner is served in the Long House starting at 5:30 p.m. I recommend an appetizer of Smoked Salmon with Pepper Cheese and Lavash. The sashimi of fresh yellow-fin tuna is delicious too!
Day Two
Get away from The Village for the day. A car rental ($45-50 per day) can be arranged at the front desk. Don't forget to ask for a map! The main road will take you into Kolonia, the island's commercial center. Shopping in Pohnpei is minimal but there are a few things to be bought. Stores carry local handicrafts — woodcarvings, woven baskets and wall hangings, jewelry, and the island's traditional skirts, as well as Pohnpei pepper and coconut body products.
Plan to have lunch at Joy Hotel Restaurant (+691-320-2447). The food is tasty and the portions are quite large. The pastrami sandwich is delicious. Not to be missed is the appetizer bar where you can partake of breadfruit and banana chips and pickled papaya.
Next stop, Nahlap Island Resort — approximately an hour drive from Kolonia. Call ahead to make reservations for a water taxi (+691-320-5009/2776). A day trip to the island will cost you under $10 per person, including the water taxi. The staff is courteous and attentive to your needs. Enjoy the water, play volleyball or just sit and read a good book in the shade of a palm tree. Snorkel gear and kayaks are available for reasonable rental rate.
On your way back through Kolonia, if the sun hasn't set yet, stop over at Cupid's Bar & Grill (+691-320-1414/6969) for happy hour. The view will captivate you!
Dine at Coco Marina (+691-320-5631/5998), an island-style restaurant situated on the waters edge. The menu is extensive including caesar salad, Hawaiian-style poke, steaks and fresh local fish. You can find it nestled in among warehouses across the street from the Australian Embassy and Sea Breeze Hotel in Kolonia.
Day Three
Nan Madol, the ruins of an ancient royal city constructed with stone logs, is a must-see. The city consists of a series of small artificial islands linked by a network of canals. It has been called "the Venice of the Pacific."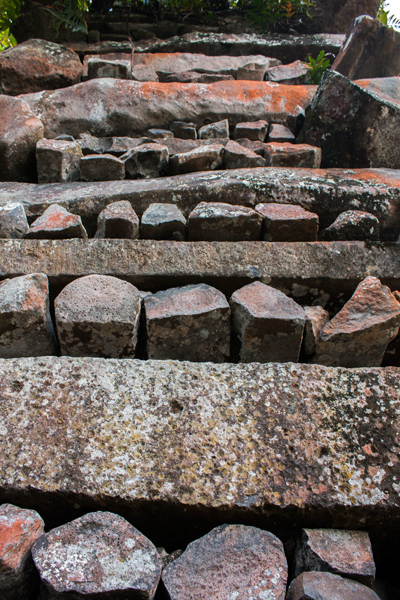 The Village will take you to the ruins by boat. Most agree that this is the best way to see it. The tour begins around 9:30 a.m. The boat first stops at Manta Road for those who haven't snorkeled with the mantas. It's about an hour ride across the lagoon to a private island where you will stop for lunch. The island is covered in jungle, the beach white with powdery, soft sand and the water is an amazing azure color. Simply breathtaking!
After lunch, it's on to the ruins. The canals are shallow and so have to be carefully navigated. Your captain and tour guide will tell you the legend, history and mystery of Nan Madol before setting you free to explore the temple, tombs and meditation chamber.
Prior to heading back to the Village, you'll stop once more for short walk to Kepirohi Falls. The path is beautifully landscaped and easy to traverse. Fresh water cascades 60 feet into a large pool. You won't be able to resist diving in for a refreshing swim!
Upon your return, enjoy an evening relaxing in your bungalow or dining in the Long House at The Village.
There is, of course, more to see in Pohnpei — more hiking, more waterfalls, more water activities! So enjoy a few more days before you head home.