Guam is the largest, southern-most island in the Marianas Islands of Micronesia. A thriving tourist economy located halfway between mainland America and Asia, this island takes pride in its people, landscape, and fiesta plate.
Population: 165,000
Known for: Beautiful beaches, exotic marine life, World War II history
Climate: Tropical. Expect 85 degrees F (30 C) and 100% humidity year-round. Typhoons are not uncommon during rainy season from August to January. Dry season extends from February to July. Every day is sunscreen weather.
Prior to arrival: As a U.S. territory, American citizens may enter Guam with any government-approved form of identification. Global visitors with a passport issued by Australia, Brunei, Hong Kong, Japan, Malaysia, Nauru, New Zealand, Papua New Guiana, Singapore, South Korea, Taiwan, and the United Kingdom may participate in the federally-approved visa wavier program and enter Guam or the CNMI for 15 days without a visa. All other visitors should contact local government about obtaining a U.S. visa prior to booking flights and making travel arrangements (because been there, done that, got stuck in the airport!)
On arrival: You will be asked to fill out a customs form on the plane. As an island, Guam is extremely vulnerable to invasive species. Even the smallest rhino beetle or sticky bird stuck to a shoelace can create enormous problems. As a general rule, no live animals or plant specimens allowed. Don't bring fresh fruit or vegetables, and don't try to take any away.
If you are moving to Guam with a pet, tell your vet at least 30 days out, and begin to assemble to necessary paperwork.
Getting around: Although Guam is a small island, few places outside Tumon are ideal for pedestrians. If you are checking into Tumon, you can walk the strip to bars and restaurants, but your experience of the island will be limited. Taxicabs are notoriously overpriced, costing $15-20 to go from the airport to hotel row, so whenever you book a tour, make sure transportation is included.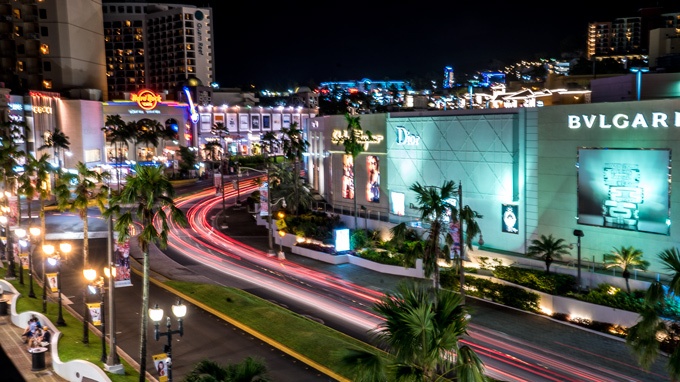 Plan to rent a car, for at least one day and drive around the island – just keep the ocean to your right, and you'll never get lost! The trip from Marine Drive, down around Inarahan, and back up through Yigo can be done in three hours, but take your time and stop along the way at parks, beaches, and tuba stands.
Getting by: Nearly everyone on Guam speaks the lingua franca English, but the language of the indigenous people is Chamorro, and many local signs reflect this. Common phrases include…
Hello: Hafa Adai
Thank you: Si Yu'os Ma'åse'
Goodbye: Adios
What to see: Don't leave Guam without going swimming! One of the best things about any island is the ocean that laps on its shores. From Ritidian down to Ipan, the water is teaming with mountains of porites coral and flocks of butterfly fish. If you plan on sticking around, get SCUBA certified and visit the Tokai and Kitsamaru in Apra Harbor – this is the only place in the world, where you can see a ship from WWII sunk on top of a ship from WWI.
Hidden away in the jungle, there are dozens of waterfalls and pools for adventurous hikers and memorials to the great battles of the Second World War's Pacific Arena.
What to eat and drink: Throughout the year, each village hosts its own fiesta, piling picnic tables with the best food Guam has to offer. Though this celebration of life and blessings comes but once a year, the food is available year round, if you know where to look. The island's starch of choice is rice, or on special occasions, red rice. Fiesta plate specials often include lemon-marinated keleguin, soy sauce-soaked BBQ and cups of local finadene.
For quick bites, check out the mom 'n' pop stores for empanadas and musubi, or road side fruit stands for local mangos, calamansi, and sweet corn. The Guam Guide readers have voted Meskla the best place for Chamorro food and Proa the best place for BBQ.
Listen to: "Inner Voices" by Marianas Homegrown, "Ya Ni Hayi Un Kuentos" written by JD Crutch and covered by Nikita Mendiola, and "Paycheck" by the John Dank Show, "Will You Be There" by Pia Mia, "Don't Blame it on the Cha Cha Cha" by David Lee Evans, "All Out of Spam" by Malafunksun.
Watch: "American Soil, Chamorro Soul"