By Jessica Peterson
Palau is a destination like no other in Micronesia. The chain of islands is small and remote, but developed for comfortable, western style tourism. Palauans are strict guardians of the island's pristine and delicate terrestrial and aquatic ecology. What has coalesced at 07°20 north of the Equator is nothing short of phenomenal. Locals are quick to boast about the island's ecological charms, often rhapsodizing about its unique beauty.
Palau is home to more than 1,300 species of fish, 700-plus species of coral, and 12 endemic bird species, the richest native bird community in Micronesia. Adventurers love the exciting wreck diving at dozens of WWII air and naval carnage sites. Marc Bauman, director of sales and marketing at Sam's Tours, calls Palau a kind of "Eden."
"Palau is one of those places that popped up in probably one of the most perfect places you could ever be. If you really look at it geographically it's not in the typhoon belt, it's not in the monsoon belt, it's protected by a barrier reef, it has deep water walls all the way around it. It has a lot of cold water upwelling which brings nutrients into the upper levels of the water column. It's just like all these things conspired in one place to form this Eden, if you will, of diving."
Day 1
Sleep in; after all, you probably flew in on a red-eye late last night. Hopefully, you booked the United resident package, which includes hotel, breakfast, and a rental car. Mosey down to the first-rate breakfast spread at the Palau Pacific Resort (palauppr.com), the island's poshest hotel. The 160-room resort has plenty of beautiful spots at which to lounge or take in nature, from the open-air lobby to the beachside pool. Enjoy the daily fish feeding at the resort pond with its resident sting ray and turtle.
Skip the coffee this morning — the 82% humidity should convince you it's just too smoldering — and savor the fresh fruit juice as you gaze out at a waveless sea and private white-sand beach. Shake off the urban stress you've been carrying on your shoulders and breathe deeply.
Call Sam's Tours (samtours.com) to book your Day Two Rock Islands tour.
Snorkeling is a must in Palau's pristine and teeming waters. Prepare to be dazzled by fish every color of the rainbow, psychedelic two-foot clams as bright as a loom, and Technicolor coral. Crystallize the moment with a rented underwater camera from local dive shop Fish 'n Fins (fishnfins.com). Keep bobbing bottoms slathered in sunscreen, for even under cloud cover, you will end up looking like fried chicken without skin protection. Float effortlessly and take in the sound of nothing but an ethereal crackling like a dim electric current and fish munching on coral. Scrape, scrape, scrape.
For lunch, get a taste of Palau's only Indian restaurant at The Taj (tajpalau.com). It's one of the classiest joints in Koror, Palau's dated city center. Surprised to find authentic Indian food in Palau? This is the real deal. Let the paneer tikka masala, homemade cheese with spiced tomato gravy, melt in your mouth, as you scoop it up with well-oiled garlic naan. Order the nawarathan korma, vegetables cooked with dried fruits in a light creamy sauce, and leave satisfied.
Take a leisurely drive through Koror, crossing the uncharacteristically cosmopolitan suspension bridge to Babeldaob, the second largest island in Micronesia. With only 6,000 inhabitants, there aren't too many must-sees besides the Corinthian capitol building, lonesomely situated on a hill like Mecca itself in the state of Melekeok. Admire the perfectly saturated green forests and play "spot the bat" on your drive through the winding Compact Road that circumnavigates Babeldaob.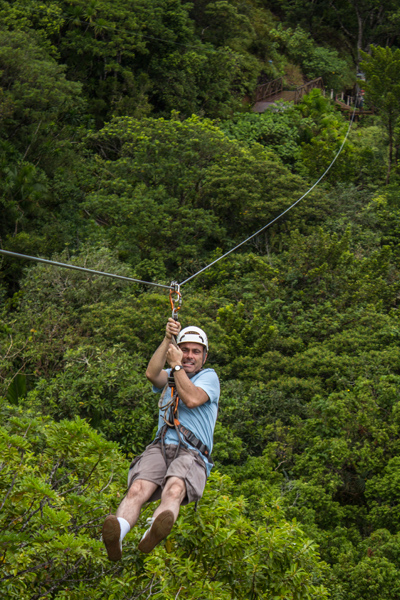 Zip line next to Palau's largest waterfall with Palau Eco Theme Park (+680-747-1004). The three-course zip line offers staggering views of the Taki Waterfall Park in the State of Ngardmau. Before you hit the zip line, you enjoy a peaceful walk through the jungle, stopping to take a picture under the "Love Tree," with it's intertwining branches. After the thrilling ride through the sky, trek down to the waterfall for a cooling shower or just another photo op.
With the length of each section running between 300 and 340 meters (about 985 to 1,115 feet), this course is no joke, and is said to be one of the longest zip line courses in the world.
On your way back to the resort, snap a photo at the decayed remains of a Japanese administration building in Airai.
Return to the resort in time for dinner and a climb to the picturesque lookout tower at dusk just when the bats come alive. Call Fish 'n Fins (fishnfins.com) to book your Day Three off-road eco tour.