By Arlene Castro
Eating light doesn't have to be torture on the taste buds and tummy (which is many times left grumbling and unfulfilled). Thankfully, there are restaurants on Guam that give more thought in catering to the calorie-counting customer or the veggie-loving grazer by providing sizable servings of crisp, healthy greens, mixed with a variety of toppings that open up several dimensions on the palette. These salads are full of texture, crunch, nuttiness, and a fusion of flavors — herbs and spices, smokiness, creaminess to juicy sweetness.You can taste for yourself the careful balancing act these restaurants have perfected in their dressings.
Here are a few hearty green salads that are not only light on the fat, but also light on the wallet.
Benii Restaurant – Tofu Salad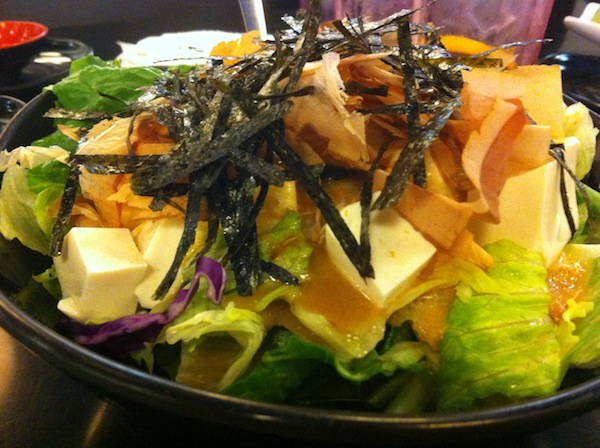 Tofu is as subtle as flavors go, but what gives this salad so much depth are the layers of texture in every bite. This sals is garnished with roasted nori strips, then you are hit with an undertone of the smoky flavor of bonito fish flakes. The silken tofu tops a hidden bed of wakame seaweed sitting on a mound of lettuce drizzled with Benii's special house dressing. All the flavors melt in your mouth and complement each other. This green salad has so much depth of flavor you can't help but put this on your list of Asian comfort food.
Napu Restaurant – Beef Yakiniku Salad
The gingery-sweet thinly sliced beef sprinkled with sesame seeds tops half a head of chopped romaine lettuce and shredded red cabbage in an over-sized bowl. Enoki mushrooms pleasantly absorb the tangy Japanese soy dressing. This member of the fungi family may be thin and stringy, but several studies in Japan have been conducted to test for its cancer-fighting properties. You can enjoy the mushroom's crisp, earthy, buttery flavor in every bite as you take it apart from its bunch and mix it with the beef and greens.
Lone Star Steakhouse – Santa Fe Salad
Romaine lettuce is tossed with black beans, shredded Monterey jack cheese, and tri-colored fried corn tortilla strips in a mild Santa Fe dressing. Chopped avocado is an "upon availability" ingredient. The salad is served already mixed with the dressing generously coating the greens. What sets Lonestar's salad apart from other Santa Fe salads is the balanced tanginess and sweetness blended with Mexican spices in the creamy dressing. You can choose to add grilled chicken or Cajun shrimp for an additional charge.
Nit's Thai Cuisine – Thai Papaya Salad
This aromatic salad can be made too saucy or too sour, but there's one place you can find it always neatly prepared. At Nit's Thai Cuisine, the green papaya is shredded into shoe string strands and coated with a lemony-fish sauce dressing. Fresh cut long beans, and cherry tomato halves are gently tossed together with the papaya then garnished with crushed peanuts.
Meskla by the Cove – Seared Ahi Salad
The salad is a colorful mix of greens, carrots, and cherry tomato halves drizzled lightly with a creamy dressing. When served it is topped with two chunky cuts of tuna steaks seared over an open grill, which you will smell permeating the breezy air around you. The center of the tuna steak is prepared rare and melts in your mouth. You can enjoy this refreshing salad in the restaurant's open-air deck with a view of Alupang Cove.
California Pizza Kitchen – Chinese Chicken Salad
The CPK menu is a salad-lover's dream providing a wide selection from the classics like Waldorf, Cobb, and Italian to modern ethnic infusions like Thai Crunch, Moroccan Spiced Chicken, but most outstanding — in comparison to other versions on-island — is the Chinese Chicken Salad. The Napa and red cabbage are shredded, yet CPK generously adds more lettuce. Kicking up the crunch are fried wonton strips, all tossed with scallions, cilantro, and sesame seeds in a hoisin ginger vinaigrette. A full symphony launches in your mouth with all these textures and flavors blending in perfect harmony.
Jeff's Pirate's Cove – Greek Salad
The long drive to Ipan, Talofofo is worth it if you want to try the best Greek salad on-island. Not only is the creamy tangy house dressing perfectly balanced (I have a feeling they use a little bit of their homemade yogurt), but the smooth feta cheese crumble adds volume to the greens in every bite. The salad is a colorful blend of lettuce, shredded cabbage, carrots, sliced red onions, crinkled-cut cucumbers, tomato wedges and then topped with a Kalamata olive. Chicken or lamb are the meat options.
Carmen's Cha Cha Cha – Taco Salad
Carmen's Taco Salad offers a satisfying bowl of lettuce, Monterey Jack cheese, beans, and Mexican rice. The rice does not dominate the bowl, neither is it lacking like in other taco/Mexican salads. There is a generous amount of lettuce, and you can ask to keep the guacamole, sour cream and salsa on the side with your chips. For an additional charge you can choose to add grilled veggies, chicken or steak.
Tony Roma's – Tony's Asian Salad
Chopped romaine lettuce is mixed with red peppers (packed with Vitamin C), sweet Thai chili sauce, fried wonton noodle strips and sesame seeds in a zesty Pan-Asian dressing. The salad can be served with your choice of grilled or fried chicken, or grilled Salmon for an additional charge.
Arashi – Pan Fried Salmon Salad
The cozy atmosphere in Arashi is like walking into the home of a chef who also happens to be an avid Japanese Anime toy collector, and what's more eclectic is the selection of salads like the Spicy Tuna Sashimi, Creamy Salmon Sashimi, Plum Chicken — dressed with a sweet-n-sour plum dressing — and the standout Pan fried Salmon. Generous chunks of chopped salmon top a bowl of greens. Sprinkled on top are crispy fried noodles and the salad is served with their homemade onion dressing.
There are more restaurants offering healthful choices, but the above establishments have been hitting it right on the mark for years when it comes to satisfying any appetite with salad. Try them all! And if you know of other establishments whose aim for the greens — making great green salads that is — has hit your tastebuds right on the spot, please comment below.