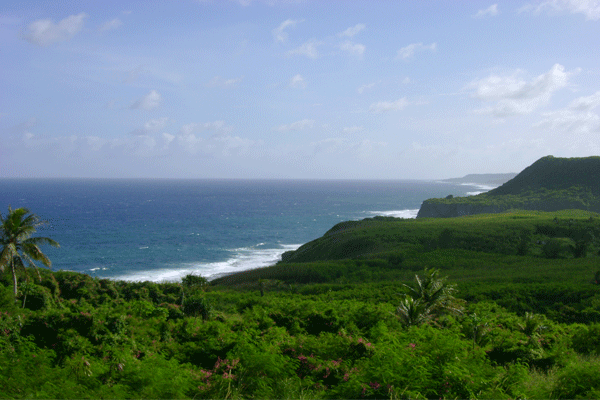 The southern part of Guam is what most people imagine an island being like — sparsely populated with beautiful rolling hills and ocean views. The village of Yona is no exception. Check out Tagachang Beach for proof.
Yona (pronounced Joan-yuh) is the first southern village you will come to on the eastern side of the island. It is also one of the largest villages on Guam. While it is mainly a residential area, there are some interesting attractions. There is the popular LeoPalace Resort with plenty of outdoor activities; locals enjoy going there to bowl, sing karaoke, and play golf. Golf enthusiasts can enjoy a selection of golf courses in Yona, including Country Club of the Pacific and Windward Hills Golf Course.
Another interesting place to visit is Hamamoto Tropical Fruit World, a 50-acre fruit utopia with more than 70 varieties of tropical fruit. Take the tram ride through the jungle for $12 and then for $15 you can try all the fruit you have learned about on Fruit World's lavish fruit buffet.
In the main village, there is a Mobil gas station as well as a 7-Day Market for quick, although sometimes more expensive, groceries. The Mangilao Pay-Less Supermarket is a 5-10 min drive from central Yona. Micronesia Mall and the Tumon shopping district can be a 15-30 minute drive depending on traffic and the time of day, and it can take nearly 45 minutes to drive to Andersen Air Force Base and 30-40 minutes to the Navy Base.