Make the most of Guam with any budget! Read our recommendations for hotels, dining, and activities for luxury lovers, families, and budget travelers. There's something on Guam for everyone.
Luxury Travel
Stay: $250 and up
In the heart of Tumon, the Hyatt Regency Guam boasts 450 rooms and suites, each with a private balcony, large windows, and deluxe amenities. The 87-square meter suites have partitioned spaces for work and sleep, an ocean-view bathtub, and a complimentary bowl of tropical fruit.
On the north side of Tumon, The Westin Resort Guam has two swimming pools, with outdoor Jacuzzis and a waterfall. The 80-square meter Royal Beach Club Suites include exclusive use of RBC beach cabanas, continental breakfast and a private cocktail hour. The 310-meter Presidential Suite might as well be an apartment in itself with a kitchenette, living room, master bedroom, and a private sauna.
Eat: $20-80
Westin and Hyatt each have their own fine dining establishments, Issin Japanese Restaurant, Prego Italian, and the Starlight Barbecue at the Westin, and Al Dente, La Mirenda, and Niji, as well as the Breezes Sunset BBQ at the Hyatt.
For an upscale twist on local food, venture out to Proa, a popular local restaurant in Tumon next to the Guam Visitor's Bureau. The menu includes succulent hibachi-style short ribs, pesto-crusted Ahi tuna, and a chef salmon special of the day.
Do: $50 and up
Shop Tumon! Walk down Pale San Vitores Boulevard, taking the time to comb through the Tumon Sands Plaza, The Plaza Shopping Center, and DFS T Galleria. Like a box of chocolates, you will find a range of wares from the global fashion empires Louis Vuitton and Gucci, to designer outlets for Vivienne Westwood and Michael Kors and locally-owned surf couture So Kel Industries.
Spend a relaxing afternoon at one of the island's spas. The Hyatt's Island Sirena Esthetic Salon, "offers therapy options from facials to massages, combination treatments and foot reflexology." With an elegant and cozy ambience, the Mandara Spa at the Westin offers 10 treatments rooms and three villas with outdoor Jacuzzis, as well as Elmis brand products. Read our review of Guam spas.
The question shouldn't be whether to golf or not to golf, but where? With seven courses across the island, hitting the green is a great way to get out of Tumon, and spend a day in the sun.
Family Travel
Stay: $80-180
Fun and inexpensive, Hotel Santa Fe is a bright pink adobe building right on Agana Bay. With a beachside infinity pool, as well as a bar and grill, you can make every day a beach day just by walking outside. Ask the front desk about daily beach activities.
While the Plaza Hotel doesn't have a beachfront, they have something just as good: Tarza Water Park. With two speed chutes, two small chutes, and three tube slides, and the Flowrider wave machine, spend the day in the cool water, without all the sand.
Eat: $5-20
Jamaican Grill offers finger-lickin' good ribs, BBQ chicken, fish, and vegetarian food, with fresh juice and the best fruit bowl on island. Sit inside or outside, listen to reggae jams, and enjoy the island style.
A sidewalk restaurant in front of The Plaza Shopping Center in Tumon, Hot Diggety Dog makes the classic American snack a meal. Original creations include the spicy Boonie Dog, the Cattle Dog with BBQ sauce and bacon, and the French Terrier with chili and cheese.
Do: Under $10
There will always be time for splashing in the hotel pool, so spend the day at the beach! The Ypao Beach Preserve, on the southern edge of Tumon is teaming with butterfly fish. While the water in Tumon rarely rises higher than waist deep, Ypao Beach is patrolled by a team of the island's best lifeguards.
Take a drive up to north to the other Mount Lam Lam. Located next to the Santa Barbara Church on Buena Vista Road in Dededo, Mt. Lam Lam Sno n' Ice Cream is home of the Shave Ice Surprise. Also try the Halo Halo with ubu ice cream, the incredible combo of slushy-soft serve called the Iceberg, and if you dare, the Taotaomona Sundae.
Budget Travel
Stay: $70-110
Centrally located on Ypao Road, the sunny-colored Days Inn is perfect for the budget traveler, who can do without the resort amenities. Each room has a spacious balcony, a microwave, coffeemaker, and a flat screen TV to cover all your bases.
Right up the road, the newly renovated Ypao Breeze Inn has 30 rooms which each include free wifi, split air conditioners, and parking. Ask about their sweet suites, one of the best prices per square-inch on island.
Military personal can also check into the Navy Lodge on historic Nimitz Hill. About 10 minutes to Big Navy and 15 minutes from Tumon, staying out of the way ensures you explore a little but of the island each day.
Eat: Under $10
Try a mom n' pop store breakfast. From Ah Mart in Mangilao to Lina J Mart in Chalan Pago down to Old Spanish Bridge Market in Agat, every village has a convenience store with a counter full of locally made snack foods: empanadas, spam musubi, pickled papaya, typhoon donuts, and tuna sandwiches. Grab a King Car Lemon Tea or Mr. Brown coffee to go with this quick meal.
At Mongolian BBQ in GPO, you pick your own ingredients and listen to them sizzle on the hibachi grill. Choose chicken, beef, or pork, pile on your choice of vegetables, and pour over your own original marinade. Served with two scoop of rice, this cheap, healthy meal is extremely filling.
Drop by any one of the night makets, in Chamorro Village on Wednesday or Friday nights, in Mangilao on Thursday nights, and Agat on Tuesdays, for the best local BBQ, homemade lumpia, and red rice.
Do: Under $5
Take a drive around the island on a self-guided tour through World War II history. Guam is an important stop on the War in the Pacific National Historical Parks program, offering a unique window into the past. As you make your way to Piti, drive over Nimitz Hill to stop at the Fonte Plateau Unit and the Asan Bay Overlook. As you continue driving south to the Agat Beach Unit and Ga'an Point, make sure to stop at the T. Stell Newman Visitor Center on the way.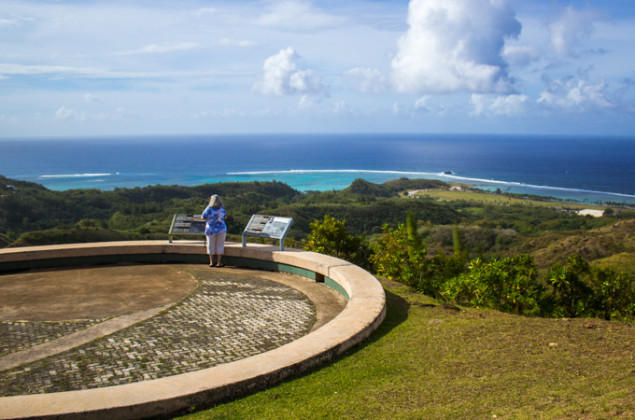 Join the Boonie Stompers on their Saturday morning hike. Meet in Chamorro Village at 9 a.m., for a unforgettable group hike and admire the island's out of the way beauty. Hikes vary each week on difficulty and location, leading to private beaches, secluded waterfalls, and mountainous views. If you are only here during the week, there are plenty of other easy hikes you can find on your own, like Devil's Punch Bowl in Tumon or 1,001 Steps in Mangilao.
Please note: All prices are estimations and subject to change.