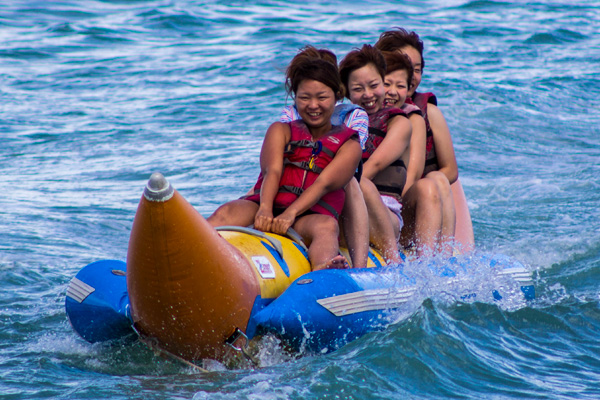 Perhaps more than anything, Guam is a beach destination — and for good reason. Tropical weather 365 days a year, a pristine marine environment, and clean, white sand beaches dazzle residents and visitors alike. Water sports come in many flavors and can be fun for adults and kids.
Check the activities desk at your hotel for more information or call Alupang beach Club at 671-646-1940 or Ocean Jet Club 671-646-2294. Prices are comparable at both clubs and transportation to and from hotels is provided.
Snuba
Snuba was created for those who enjoy the simplicity of snorkeling and want to experience the wonders of breathing underwater. Snuba is a unique, patented shallow water diving system, bridging the gap between snorkeling and scuba diving. Snuba divers breathe underwater by means of a 20-foot air line which is connected to a standard scuba tank. The tank is mounted on a raft on the surface that follows your every movement. The airline allows you to tour underwater near the bottom, at mid-water or on the surface depending on your level of comfort. Contact Real World Diving Guam to make a Snuba reservation.
PHOTO: Real World Diving Guam
Parasailing
Want to do something adventurous but not ready for the fear-for-your-life intensity of skydiving? Parasailing offers the perfect level of sky-high adventure for those who prefer to stay closer to home. Float in the sky above the ocean with the help of a parachute while you're pulled along Guam's beautiful coastlines by a speedboat. For more information about parasailing, contact Alupang Beach Club or the Ocean Jet Club.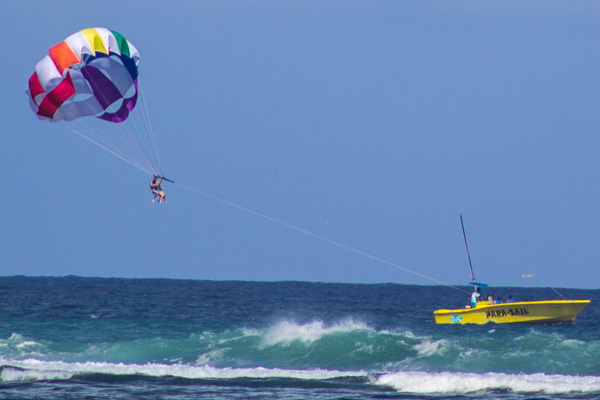 Banana Boating
Up to 10 passengers can zip across the ocean and bounce over the waves on an inflatable "banana" boat. Visit Alupang Beach Club for packages and promotions.
Kayaking
Kayaking is a fun way to explore Guam's less accessible coastlines and outer rock islands. Pack a picnic and head out to Cocos Island for hiking and bird watching. Or load up your snorkel gear and venture out to Anae island for fish, crab, and lobster sightings. Keep an eye out for turtles and dolphins along the way. Looking to buy a kayak? Alupang Beach Club sells new and used ocean kayaks.
Seawalker
Go down into the ocean with a unique design helmet filled with air. This safe and easy activity lasts about 20 minutes and you will always have the helping hand of a guide. Seawalker is perfect for young and old no matter what your water experience. Enjoy feeding friendly fish and seeing natural coral life such as anemones. After your dive, enjoy the beautiful view from Fish Eye Marine Park or explore the ocean via paddleboat or kayak. Book through Seawalker Guam Tours.
Paddleboating
Paddleboats are for the leisure explorer. Fish and rock formation of the reef can be observed from the surface with ease. Some safety precautions are in order when using a paddleboat. Staying clear of the surf and protecting your skin from the sun are very important. Paddleboats can be used in conjunction with Seawalker tours or make reservations with Alupang Beach Club for rentals.
Jet Skiing
Jet skiers are in for excitement and speed. Water spray and wind are a part of the action. Instructors will help to make it a fun and safe adventure. Agana Bay is a great place for jet ski activities, as swimmers don't frequent this spot. The occasional fisherman may be in the water though. The wide expanse of beach and water makes it a great place for locals who have their own jet skies to put in on the slow incline accessible from Marine Corps Drive. Visit Alupang Beach Club for packages and promotions.
Diving
From fascinating historical dives to coral reefs teeming with life, Guam has it all for those who can't wait to suit up and plunge in the island's warm tropical waters. Read our 12 Best Dives on Guam to plan your best vacation yet.
Snorkeling
Guam may be better known for its world-class dive sites, but there are plenty of great underwater adventures to be had without a tank — if you know where to go. Grab your mask, snorkel and fins and hit up our Top 10 Snorkeling Spots on Guam, which rank in the top 10 for their ease of accessibility, excellent visibility, and diversity of reef life.
Stand-up Paddleboarding
This relaxing sport is also a full body workout — upper body, lower body and core workout all at once. It's the perfect sport for woman since all the problem spots get a workout. As with any sport or workout program, though, it is important to ease into it and know your levels. Check out our Paddleboarding 101 guide.
Land activities
Paddling and jet skiing can be exhilarating but may bring on the need for a meal and some rest. A beach chair or a hammock may become a welcome sight. Water sport club packages can be purchased at hotel lobbies. The all day or partial day package is popular with visitors staying at Tumon beach hotels because lunch is included. The location is convenient and the transportation is provided. The two major clubs also have beach activities like ping-pong and soccer.