By Peyton Roberts
Looking for ways to get out and enjoy Guam with the entire family? Try out these favorite island spots and let the memories make themselves. Don't forget your camera to capture all the smiles!
Talofofo Falls Park
While many of Guam's waterfalls are located deep in the jungle making them difficult to access with small children, Talofofo Falls Park is the perfect waterfall excursion for the entire family. Take a cable car to and from the stunning double set of waterfalls. Enjoy the museum, funhouse, children's rides and take a stroll to Sergeant Yokoi's cave.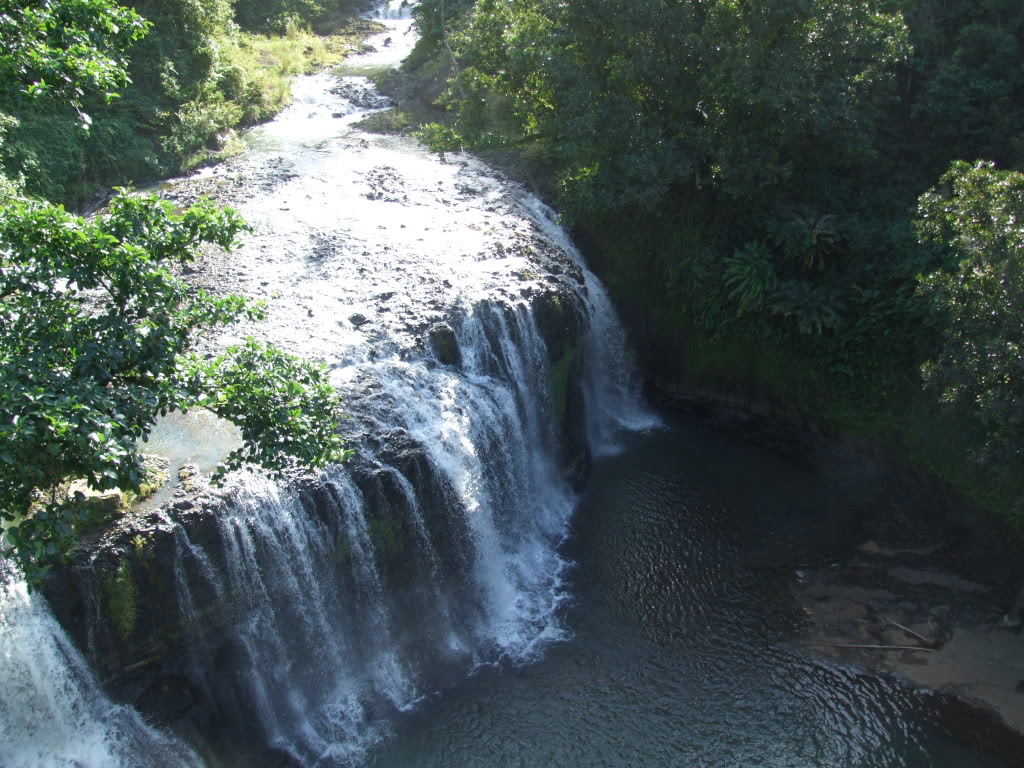 UnderWater World
What kid doesn't love turtles and fish? Head to the aquariums at UnderWater World in Tumon for a fun day of looking at and learning about the animals of the ocean. "My kids never get bored here!" says one local mother of five. Bring your local or military ID for a discount off the admission price.
Family Adventure Tours
Spend a day together on Guam's beautiful waters and get an-up close look at the island's wildlife in its natural habitat. A number of tour companies offer dolphin watching, snorkeling trips, and even a jungle river cruise on the Talofofo River. Contact Alupang Beach Club Tours and Turtle Tours for more information.
Natural Pools at Inarajan
Not quite a beach, not quite a pool, Inarajan Pools is one of the most beautiful and unique natural features on Guam. Salt water continuously washes from the ocean through a series of naturally formed pools. The landscape is breathtaking while the pools are relaxing. Small children will like splashing around the shallowest pools at low tide, while older kids will love the thrill of jumping off the old lifeguard tower. Bring a picnic and enjoy a day in the sun at this special place. Please come with a plan for your family's trash disposal as there are limited waste receptacles on site.
Waterparks
In many places waterparks are somewhere you only visit during summer break. On Guam, you can go all year long! Older children and teenagers will prefer the exciting rides at Tarza and Onward, while the Pacific Islands Club offers fun for all ages.
Guided Hikes and Snorkeling
The Guam Environmental Education Committee offers hiking and snorkeling trips for families throughout the year. Many of them are free! Check out their Facebook page for information about upcoming events, including beach clean-ups, summer camps, and snorkeling outings at different spots around the island.
Chamorro Village
Trying to overcome a midweek dinner slump? Head to Chamorro Village on Wednesday for a spontaneous evening of midweek family fun. From food to dancing to carabao rides — there's something for every member of the family. Avoid the crowds by going early (before 6 p.m.). Pick up takeout from your favorite food venders and make your own little picnic across the street in peaceful Skinner Plaza.
Day at the Beach
Guam's protective outer reefs make for a number of beautiful, shallow and calm beaches, a perfect place for families to spend the day together splashing around and looking for seashells. Ypao Beach in Tumon, Jeff's Pirate Cove Beach, Gun Beach, and Gab Gab Beach are favorites for families with children of all ages. Fish Eye, Gab Gab, Gun Beach, and Haputo are great for snorkeling.
Boonie Stomping
While many of Guam's jungle hikes are strenuous or difficult, there are a number of family friendly boonie stomps that everyone will enjoy. Priest's Pools, Piti Guns, and Tarzan Swim Hole, for example, are great family hiking destinations. Bring a picnic lunch and look for the rope swing at the swim hole. Always hike within your family's ability level and come prepared with bug spray and sunscreen. Check out the book the Best Tracks on Guam (available in local bookstores) for detailed information about specific hikes on Guam.
Playport
Trying to avoid the hot sun? Rainy season got you down? Young children can still have a chance to shake their sillies out at this indoor playground at the Agana Shopping Center. With plenty of places to run, jump, slide, and climb, Playport is a perfect place to meet friends for a playdate. Walk over to Yogurtland afterwards for a special treat before heading home for naptime.