Blog
The Fresh Factor: Farmer's Market Dinner Party
By Peyton Roberts
A few weeks ago, I had the honor of hosting our dinner club. Once a month, two other families and ours take turns hosting a delicious meal. It's always a great time to catch up on everything going on in our busy lives, as well as a fun opportunity to try some new recipes.
With so much fresh produce available right now, I chose a farmer's market theme for our menu, hoping to maximize flavors through freshness. The meal, featuring grilled yellowfin tuna, roasted veggies, and mango salad was a big hit, and almost all of the ingredients were acquired from right here on island, including herbs from our herb jungle and a tuna loin which I purchased from the Fisherman's Co-op in Hagatna.
Lemony Herb Grilled Tuna
4 fresh yellowfin tuna steaks
The zest of 1 lemon
2 tablespoons fresh rosemary leaves
a handful of parsley
2 tablespoons Caesar or Thai basil leaves
3 garlic cloves
2-3 tablespoons olive oil
salt & pepper
Finely chop the rosemary, parsley, basil, and garlic (I recommend using a food processor). Combine this herb/garlic mixture with the lemon zest in a small bowl. Rinse the tuna steaks and pat them dry. Sprinkle both sides of each tuna steak with salt and pepper, rub with the lemony herb mixture, and drizzle with olive oil. Let tuna sit for 20-30 minutes soaking in flavors before you toss them on a medium heat grill. Grill 2-3 minutes each side for medium rare and that nice pink center, or leave on longer until desired doneness.
A note on this entrée – we served this same recipe at a previous dinner party to a friend who hates fish (she says she can't stand to be in the same room). She was so surprised at how delicious it was, she continued to eat the entire piece of tuna… a true testament that freshness makes all the difference!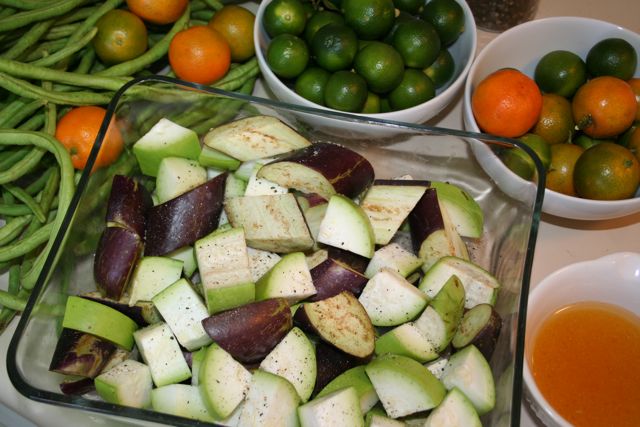 Roasted Guam Veggies
An assortment of fresh roasted veggies makes a simple and delicious side to any entrée and is so flexible to prepare based on what you have available in your kitchen. I chose opo squash and eggplant.
2 eggplant
1 opo squash
1 tablespoon garlic powder (or 3 fresh cloves chopped)
2 tablespoons dried oregano
salt & pepper to taste
Chop each veggie into one-inch slices or cubes and toss into an olive-oil greased baking dish. Sprinkle generously with salt, pepper, garlic powder, and dried oregano, and coat with olive oil. Bake uncovered at 400 degrees for 20 minutes.
This was my first time to try opo squash, and I loved it! It has a similar consistency to zucchini, but a slightly different flavor.
Mango Garden Salad
1 head hydroponically grown (on Guam!) head of lettuce (butter, red oak leaf, etc.)
2 mangos, peeled and sliced into one-inch pieces
1 cucumber, sliced
Wash and distribute lettuce into four individual salad bowls. Top with cucumber and mango slices. Serve with your favorite dressing or keep it local and try Calamansi Poppy Seed Vinaigrette (recipe here).
Consider incorporating local foods into your dinner parties. Your guests with appreciate the extra flavor, and you'll get some new recipes under your belt!
About Peyton
Peyton Roberts is a military spouse who moved to Guam from the States in July 2010.  She started her blog, Peyt's Island, as a way to keep friends and family informed about what island life is like. Over time, that space transformed into a forum for writing about her experiences discovering Guam's beauty, and more recently its flavors. Peyton loves all Guam adventures, whether land or sea, and has a passion for sharing ideas about incorporating local produce into regular family cooking. At the Fresh Factor, Peyton shares recipes, interviews, and information about all things fresh on Guam.