Blog
The Fresh Factor: A Trip to Agat Market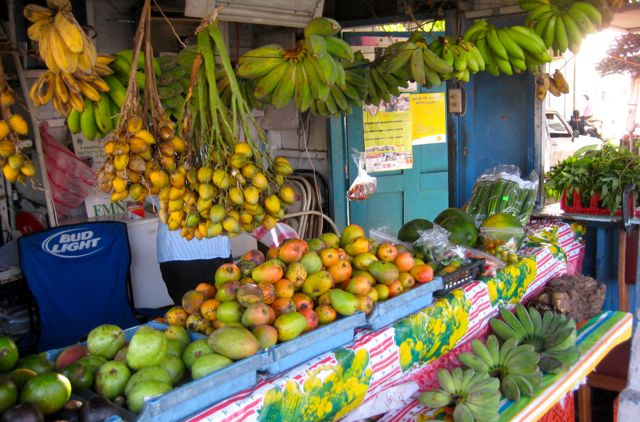 By Peyton Roberts
Tuesday night I journeyed to Agat Market. Well, I suppose it was less of a journey and more of a 10-minute drive. I'd been wanting to check it out for some time, but always managed to have Tuesday night conflicts. I'm so glad I finally made it there because the fresh factor was alive and well!
I arrived around 5:30 p.m. and was greeted by several colorful produce stands which were richly stocked with all of my Guam-grown favorites: tomatoes, mangoes, bananas, avocado, sweet potatoes, calamansi, eggplant, and opo squash. I bought a bag of homegrown cherry tomatoes for $1, a big bunch of Manila bananas for $3, and the kind lady threw in 6 mangoes for free because she had more than she could sell. Isn't mango season fantastic? I was also excited to see locally grown scallions for the first time at a market. They are a key ingredient to keleguen, so I knew they must be around here somewhere. Sure enough!
For anyone who heads to Agat Market expecting the Chamorro Village of the south, think again. This is definitely a local's hangout. You won't see too many haole residents and you won't see any tourists. But like any enticing Chamorro gathering, the smell of meat grilling over hot coals caught my attention. In addition to my bag of produce, I walked away with my favorite part of Chamorro Village, meat on a stick for dinner, $1 each.
I perused the other vendor stalls, a few with clothing and knick knacks, yummy treats, and more produce. I was on my out when two fishermen asked if I wanted to see their catch. "Fresh fish?" I thought. "Of course!" Inside their coolers were several large unicorn fish (none of which smelled like fish, by the way). "I'd love to try it," I said, "but I don't buy whole fish because I don't know how to clean them."
 "You don't have to," they informed me. "Just scrape off the scales and throw them on the grill. The meat comes off really easily once it's cooked."
That's when Gerald and Don introduced themselves. I hung out talking to them for about 20 minutes, asking all sorts of questions about fishing here and listening to exciting stories about encounters with tiger sharks. I told them about the premise of The Fresh Factor and they said, "We eat local 99% of the time." They gave me the ins and outs of some of the fish markets around town (which I will share with you in a few weeks once I have all the info). By the end of the conversation, they had invited me to a barbecue to try fresh pork and venison!
At this point I am inclined to say something vague or cliché like, "The Chamorro people are so nice." They are, no question, but it's more than that. I came to Agat Market alone, a tall skinny white girl feeling a little out of place. Thirty minutes later, I walked out feeling like I'd met new friends (I was even offered a beer at one point). That's a pretty powerful testimony to the spirit of the people here. The more I learn about and meet the Chamorro people, the more grateful I am to live on this beautiful island. Not only are they key to unlocking the secrets of freshness for us island newcomers, they have a little something to teach us about hospitality too.
I walked away to enthusiastic shouts from the surrounding group. "Buy local!" they cheered.
So join me in making an effort to head to Agat Market on Tuesday evenings. You'll be supporting local farmers and fishermen, getting a steal on produce prices, and can find everything you need for a fresh feast all in one place.
Tuesday Night Agat Market
Every Tuesday, approx. 4:30-8:30 p.m.
Drive south on Marine Corps Dr. Turn left at the light in front of Big Navy and continue south on Rt. 1 into Agat. Continue until you see a parking lot full of cars on the right side of the road. If you reach the War in the Pacific National Historic Park, you've just barely gone too far.

About Peyton
Peyton Roberts is a military spouse who moved to Guam from the States in July 2010.  She started her blog, Peyt's Island, as a way to keep friends and family informed about what island life is like. Over time, that space transformed into a forum for writing about her experiences discovering Guam's beauty, and more recently its flavors. Peyton loves all Guam adventures, whether land or sea, and has a passion for sharing ideas about incorporating local produce into regular family cooking. At the Fresh Factor, Peyton shares recipes, interviews, and information about all things fresh on Guam.