Having traveled the world, I can say truthfully that Guam has several world-class spas. You can expect Balinese massage on Guam to mirror that in Bali, and I know, because I've been there. Local spas have a variety of treatments ranging from Thai treatments to sports massage. Learn the lingo with our handy treatment guide, then book at any of the spas below.
Chandan Spa
Named after the ancient sanskrit word for Sandalwood, renown for its medicinal, calming and spiritual effects, Chandan Spa desires to provide a memorable relaxation ritual for the mind and body, while leaving their guests truly relaxed, revived, and rejuvenated with a diverse service menu of carefully crafted treatments from different regions of Asia. Spa hours are from 10am to 10pm, Sunday through Saturday. Call 648-1681 to schedule a reservation.
Chandan Spa is located in Pacific Star Guam Resort & Spa.
Spa Bali
Traditional Asian spa soothes the tired soul with aromatherapy and deep tissue massage. Therapists are Balinese and perform a variety of fusion treatments such as the Nirwana Bali Massage, a blend of Balinese, Swedish, and Shiatsu techniques. The Island Paradise Massage mixes Balinese with Lomi-Lomi Hawaiian techniques. The warm stone massage is the ultimate must-experience relaxation solution available in 60- to 90-minute sessions. All treatments include your choice of essential oils used for aromatherapy — some designed to calm, others to inspire and rejuvenate. Body scrubs and foot baths are available as well as facial massages and mask treatments.
The spa has shared changing rooms, so ask for a separate room if you must. Therapists waste no time starting your treatment, so consider Spa Bali an option if you are short on time.
Tip: Spa Bali also has a sauna, so arrive early and enjoy the heat!
Spa Bali is located in the Holiday Resort & Spa.
Olive Spa Resort

Treatments at Olive Spa are a total relaxation experience where no personal preference is left unchecked. From the moment you walk in the door of this Japanese-style spa, you are presented with choices for everything from the type of massage oil used to the fragrant oil used in the private massage room. In fact, the massage room is a full-size hotel room for two, complete with a shower. The spa lobby has comfy couches and one of the most stunning views of Tumon Bay through a panoramic balcony. It's a great place to sip fresh fruit juice or herbal tea to prepare your mind for the relaxation to follow. While the full body aroma oil treatment is the most popular at 100-minutes, I opted for the 60-minute treatment and was pleasantly surprised that it commenced with a hot foot bath and massage. Because I had selected my upper back for extra time, my massage therapist applied just the right pressure to ease the tension, inquiring often about my comfort level. Olive Spa offers almost a ritualistic approach to massage therapy that includes much more than just the treatment. It is Japanese hospitality at its best.
Tip: Get there early or stay a while after your massage to enjoy a steamy, hot shower and a variety of fragrant shampoos, body washed, and lotions. It's the perfect way to preserve the relaxing benefits of your spa. Be sure to drink lots of water afterwards!
Olive Spa Resort is located in Guam Reef Hotel.
Island Skin Spa
This petite and friendly spa specializes in deluxe facials and skin care. The decor is a cross between glam chic and world traveler with items picked up around the world by the owner. If the sign of a good spa treatment is the sleep it induces, then Island Skin Spa scores high because I was thoroughly relaxed after cosmetologist Charlene finished my 60-minute ultimate spa facial! I received a deep cleansing facial with a choice between lip or brow wax, plus a lower leg and foot massage, sugar scrub on my arms and hands, and a scalp massage. It is one of the spa's most popular services, which also include massage, tanning, waxing, makeup, and nails. 
Tip: Book an intimate spa party at the spa to celebrate any occasion.
Island Skin Spa is located behind Oka Pay-Less in Tamuning. 
Angsana Spa
Dark and atmospheric resort spa promises big and delivers on total relaxation. After an herbal tea in the lobby, I was lead to a two-room massage area where I could finish my tea and relax for a few minutes in a large Jacuzzi room with separate toilet and shower. My massage therapist was sensitive to my request to go lightly on my sunburnt flesh and use room temperature oils instead of hot. Agreeing beforehand to the stomach and chest massage meant I was naked for a bit, so opt out of that if you are shy or ticklish. The scalp oil massage was the icing on the cake and I left thoroughly relaxed.
Tip: Buy the PHR Club membership to get 20-30% off spa treatments and then head to the Sheraton infinity pool to sip a cocktail as the sun sets!
Angsana Spa is located in Sheraton Laguna Resort.
Spa Ayualam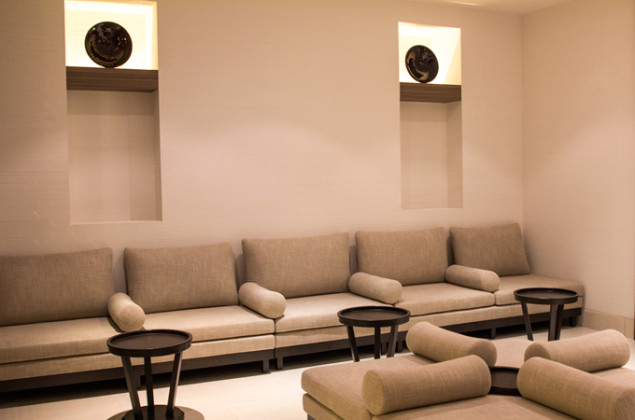 The minimalist-looking Spa Ayualam opened a brand new location at Nikko Hotel and is working to complete an outdoor patio overlooking the pool. The spa has a monastic, almost clinical feel from the monochromatic lobby to the long white hallways. Unlike a few other local spas, the massage rooms do not have showers, which I did miss. However, Spa Ayualam was very accommodating as I changed massage method in the middle of my treatment. Despite the perplexed look the staff gave when I request the "power stick" massage, they obliged my desire to try something new. The capable therapist did her best to make it pleasant, but ultimately it was anything but. I winced through the first 15 minutes (no pain, no gain), but finally requested that we switch to Balinese style massage, which I enjoyed very much. My therapist was very willing and graciously put the stick away. An "herb tent" treatment followed the massage, in which I sat in a chair covered with a cloth teepee as a humidifier piped in herbal goodness and, presumably, good vibes. If you're feeling adventurous (or hungry) choose the chocolate cake massage oil.
Spa Ayualam is located in Nikko Hotel & Hilton Guam Resort.