Bakeries
The Best Bakeries on Guam, Part I
These out of the way, little bake shops may be small in size, but are big on lines of customers coming from all parts of the island
What comes to mind about when I started thinking of memorable baked goods is my recollection of a TV commercial — a toasted and piping-hot English muffin, with all its "nooks and crannies" buttered up so generously you wouldn't want to let a crumb fall. From then on, people looked closer at their morning toast for these "nooks and crannies" which became known as the porous holes found all over the bread. The English muffin company probably had a pun intended by it. Or should I say, a bun intended, since the original meaning describes every small, out-of-the-way place or places where something can be hidden? Fittingly, hidden in the heart of several villages on Guam are these nooks and crannies.
These out of the way, little bake shops may be small in size, but are big on lines of customers coming from all parts of the island. Local residents find themselves making the long drive to take a bite of these bake shop's signature pastries. Made fresh from the oven, or with special ingredients and extra loving care, whatever the reason is, these baked goods keep local residents flocking, and more often, are devoured down to their "nooks and crannies" before the drive back out of the village. I was able to follow the crumb trail formed by interviews from new and long-time, faithful patrons to find the locations of 10 alluring bake shops nestled in the "nooks and crannies" of our island. Visit a village and try for yourselves a taste of their coveted baked goods. Here's part 1 of my discovery.
Be sure to read part 2 of the Best Bakeries on Guam.
Elite Bakery
Pan tosta is the local version of biscotti. Customers purchase these toasty treats to dip into their morning coffee and they are a popular item to send off in care packages to loved ones abroad who are missing a tasty favorite of Guam.
Pig in a blanket is one of Elite's long-time favorites. A former resident returning for summer vacation on Guam with her husband made it a point to do a morning stop to buy the snuggly-wrapped dogs. They had frequented the bakery for lunch several years ago, and could still remember how buttery and fluffy the buns were. Other locals share similar sentiments on the creaminess of the bread and many other baked goods. A bakery employee proudly attributes it to the special butter used.
Local residents have been ordering guava and pineapple cakes for all occasions. Elite's tropical fruit-flavored cakes have given local weddings a special island flair. What sets these cakes apart from the rest is that the cake batter is infused with real fruit juices. Elite Bakery is located along Chalan San Antonio Road in Tamuning.
New Fresh Bread Bakeshop
Turtle Rolls are firm, yet lightly crusted on the outside, and moist and airy on the inside. These rolls have a sturdier texture than the usual turtle rolls, and the price for a bag is cheaper compared to others in bakeries and grocery stores.
Cream puffs and eclairs are carefully shaped and crisp, which allows them to hold larger heaps of creamy filling inside.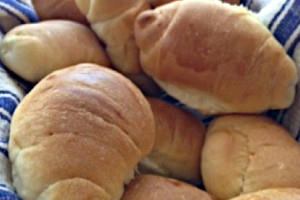 Cream cheese rolls contain the same dough as the turtle rolls, lightly sweetened, and wrapped around a light cream cheese filling inside. These rolls are usually sold out before the morning is over. New Fresh Bread Bakeshop is located on Y-Sengsong Road and at the corner of Santa Barbara Street in Dededo.
Pop's Bake Shop
Pan de sal fills the Old Agat village air early in the morning. For over three decades, Pop's Bake Shop has been pumping out the best-tasting pan de sal on island. Sanded with bread crumbs, these rolls have a nice round outer shell, encasing a flavorful sweet-n-salty inside.
Cream cheese roll is made like a miniature cinnamon roll, but rolled inside with a sweet spread of buttery cream cheese. The dough tastes creamy and flaky, reminding me of a croissant, which gives the taste buds a luxurious experience. I can understand why one teacher brings a box full of these rolls to school to share with fellow co-workers almost every week now (I'm a teacher). Even if it's baked in a small village bake shop, this little pastry offers a big feel of southern charm.
Boston cream pie is a classic and long-time favorite pie at local parties. The light and fluffy yellow cake makes this pie different from others. It has a cool vanilla pudding filling, topped with a thick spread of rich chocolate frosting. Pop's Bake Shop is located in Agat.
Joanne's Bakery
Siapao (shoo-pow) is a large steamed bun with saucy shredded chicken, pork or beef as fillings. Joanne's siapao is not only huge, the bun is moist and sweet, and the filling is plentiful and flavorful with a hint of sweet chili sauce that gives it a nice kick.
Apple turnover is buttery, flaky tart with apple filling. A bakery employee proudly points out that this is the Lieutenant Governor of Guam's favorite breakfast treat.
Spanish bread is another popular cake, which a former First Lady of Guam will make the drive to purchase from her Agana Heights residence. The "cakey" bread is a special ingredient for her famous latiya (latee'za) another local favorite dessert dish. Their Spanish bread is super-moist, lightly sprinkled with sugar on top for a perfectly balanced sweetness. Joanne's Bakery is located on Marine Corps. Drive, across Pay-Less Supermarket in Yigo.
About Arlene
Born and raised on Guam, being curious and adventurous, no tree was left unclimbed and rock literally left unturned. Arlene turned her love of the environment into teaching middle school students, her children, and the community about the natural world around us. Arlene believes the best way to gain appreciation for all the wonderful creations in nature is to go out and explore it yourself. She has spent most of her life on Guam — outdoors — playing land and water sports. Arlene enjoy sharing her observations and discoveries of all the natural, historical and cutlural gems that Guam has to offer.