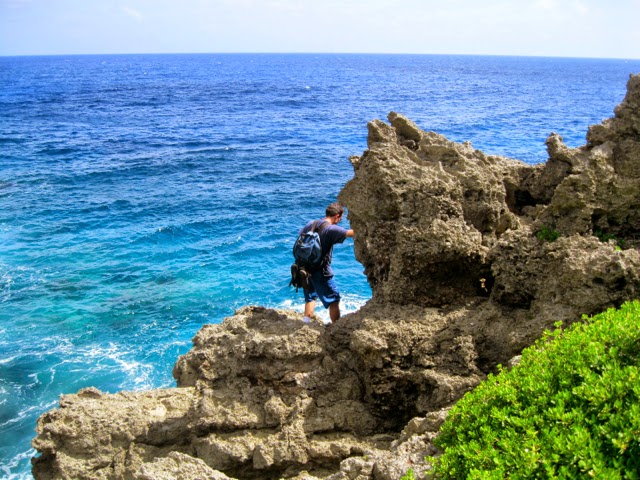 See maps and directions to one of Guam's most accessible caves!
Story by Christy Sutton. Photos by Andrew Wertz & Christy Sutton.
The Chamorro village of Pagat existed on the shelf overlooking the Pacific Ocean. Evidence to date indicates the site was occupied from before Christ to sometime after 1700. There are few artifacts of the early Chamorro village that existed there. We were "stomping" to the caves simply to explore and take a refreshing dip in the pools.
Approximately 6.1 miles from Ladera Towers in Mangilao, the entrance is on the right with room for parking on the left. Drive north on Rt 15 for 6.3 miles from the intersection of Rts 10 and 15. At the bend in the road, park along Rt 15.
The journey to Pagat Caves is not a very long hike, just over a mile, but it is fairly steep in places and drops down 400 feet in elevation. You can't miss the sign marking the start of the hike. The trail is well marked by trees attached with pink ties.
The trail changes dramatically at one point to a steep grade of limestone cliffs. The cave is on the left at the bottom of the cliffs. However, most hikers, choosing to save the best for last, continue on to the scenic coastline.
Going down is not so bad. It's coming back out that had us breathing heavy. The limestone is jagged and some places are slippery, so we had to watch our steps carefully both ways. It's recommended you put socks over your shoes or wear felt bottom (scuba diving) shoes.
The reward is a swim in a pool of pure, fresh water at the end of a narrow passage in the cave. The pool is completely enclosed in the darkness.

After swimming for a bit, we took a short hike through the jungle to the coastline.
We saw two coconut crabs inside the entrance of the cave and l
ots of butterflies and wild flowers along the trail. It was simply beautiful.
Read more about boonie stomping on Guam…
ADDITIONAL SOURCES: hikeguam.weebly.com & guam.stripes.com