Activities
Snorkel Without Getting Wet on Atlantis Submarines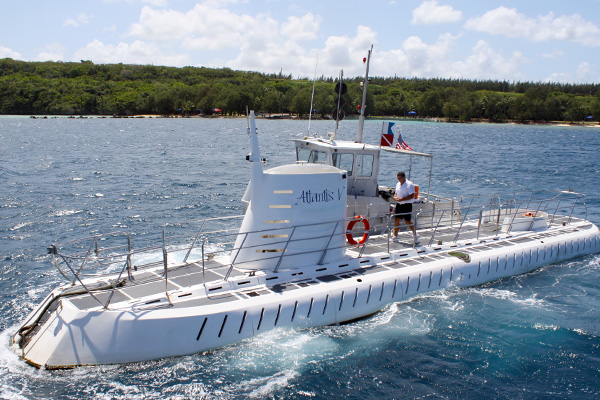 A trip to Guam wouldn't be complete without an exploration of the thriving seas. Surrounded by a healthy coral reef, Guam's waters are teeming with life. The Atlantis Submarine Expedition allows up to 48 passengers to get up close with aquatic life aboard a comfortable 65-foot submarine.
The Underwater Adventure Tour takes off from Apra Harbor. Passengers will first board a double decker boat and can admire the clear blue skies and refreshing sea breeze during the 15-minute jaunt out of the harbor.
Guests then watch as the Atlantis emerges from the water like a specter in the harbor. Wheelchair guests may participate if they are able to safely navigate the 12-step ladder into and out of the submarine. Inside passengers are seated back to back facing thick glass portholes. Picture taking is welcome, just remember to turn off the flash!
During the tour through Gab Gab, a popular snorkeling spot, guests may see colorful striped Moorish Idols, clown fish, giant elephant ear sponges, sea turtles, and even nurse sharks. The captain will delight participants by plummeting to a maximum depth of 45 meters. Guests of all ages are welcome for this one-of-a-kind adventure!