By Joel Kanda
The Burger. A classic American indulgence. A pleasure unlike any other. The one thing you crave coming straight off of what might have seemed like a never-ending diet.
As the infallible comfort food, The Burger will always be by your side in your time of need. The Burger will neither condemn nor judge you when life calls for a food splurge. It will, in fact, welcome you graciously.
It being a constitutional American food, you would hope that Guam, where America's day begins, could provide you access to this undeniable source of delight. And fear not! This island of Guam has an abundance of burger-providing establishments who will not leave you wanting.
Here at The Guam Guide we love to make life easy for you and so to do that we've compiled a menagerie of some of the Best Burgers you can find here on Guam.
The Green Lizard
Boonie Burger
The Green Lizard, opened in 2011, is one of Guam's newer burger-providing establishments. According to Chef Bill, he spent two years perfecting his recipe for the Boonie Burger. And from what I've tasted, it was time well spent. At first bite an explosion of flavor burst forth from its confines celebrating freedom with me receiving all of the benefit. The patty is extremely well seasoned encouraging the flavor of the beef itself to stand out instead of being buried underneath a pile of other components. Their house-made sauce brings a nice punch to fortify the flavors coming from the patty. It may have taken two years to reach perfection but restraint is not my strong suit and so it took me only a moment to devour every morsel of that delicious creation.
The Green Lizard is located in Tumon next to the Slingshot.
Meskla Dos
Rancheru Burger
If I ever had a pet peeve, it would be a dry burger. Thankfully, the guys at Meskla Dos are considerate enough to save me from that parched, moisture-less pit of despair that can come from a dry, tasteless burger.
The Rancheru Burger is everything you want in a burger. Its drip-down-your-chin juicy and so full of flavor it'll kick you in the face (a nice, friendly kick in the face as opposed to the other kind). Their house made ranch dressing provides a slight spiciness to awaken your senses and the smokiness from the bacon shifts all the other flavors into overdrive. And while I'm not usually an egg-on-my-burger type of person for this burger I make an exception. The egg helps hold everything together and brings a nice heartiness. Meskla Dos offers friendly service and a great atmosphere. And I'll tell you, these guys know what they're doing.
Meskla Dos is located across the intersection from Kmart in Upper Tumon.
House of Brutus
Brutus Burger
House of Brutus is known for the exceptional quality that they unrelentingly continue to put out with all of their food. And their burgers are no exception. The Brutus Burger is packed with flavor and a unique combination of toppings. The first thing you'll notice are perfect, golden, crispy onion rings sitting confidently atop the cucumbers, fried egg, cheese, patty and slaw. The crisp cucumbers and the slaw bring a bright freshness that many other burgers often lack. The patty itself is not too greasy and not too dry, maintaining a perfect balance. While this is their signature burger, Brutus offers a wide selection of burger variations to fit your need. Think you can handle some heat? Try their Spicy Burger. It will not disappoint.
House of Brutus is located at the back of the ITC Building in Tamuning.
Sumay Pub and Grill
Homemade Sumay Burger
The Homemade Sumay Burger has been called the #1 burger on Guam. And at first bite, I knew instantly why. Immediately, I'm hit with a slight sweetness coming from their secret sauce which soon after marries with the savoriness of the patty as well as the bacon and I experience what many have called the "Makes-Your-Tongue-Smack-The-Back-Of-Your-Head" sensation. The patty and bun are equally sized so that everything holds together perfectly. The patty is juicy without being greasy. I am amazed at how much flavor they were able to pack into such a simple burger. I love it when I'm pleasantly surprised and from the first bite to the last, I was spell-bound.
Sumay Pub and Grill is located outside the Naval Base off of Route 1 on the outskirts of the village of Santa Rita.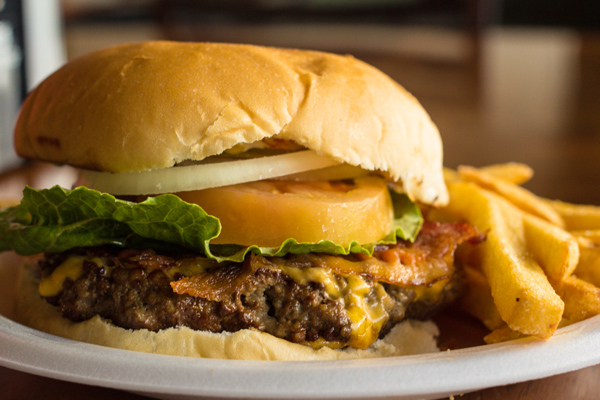 Pika's Café
Classic Champ Burger
Pika's award-winning burger, appropriately entitled the Classic Champ Burger, is undoubtedly worthy of such a title.
The patty is perfectly seasoned so as not to overpower any of the other components. The pickles are homemade using local cucumbers and local dill. The avocados bring a rich creaminess that I didn't even know I was missing in a burger. Crispy strips of bacon work in harmony with the sweet red onions as well as the provolone cheese. And last but not least, the Lana sauce brings us all the way to home-base causing every taste bud to break out in a victory dance. I feel it's important to note that one of my favorite elements of this burger is the Ciabatta bun. Perfectly toasted, light, and oh so delectable. You'll be left wondering why every burger is not embraced with such a treasure. Without a doubt you can see the hard work that was put in for this burger to reach its ultimate potential.
Pika's Café is located off of Route 1 in Upper Tumon across from Saint John's School.
Ruby Tuesday
Boston Blue Burger
One of Ruby Tuesday's most popular burgers, the Boston Blue is an artfully crafted burger amongst the arsenal of variations that they offer. Seriously, with blue cheese crumbles, crispy onion rings and house-made barbecue sauce on top of a perfectly cooked patty, what else do you need? Blue cheese can often be overpowering but with the sweetness of the barbecue sauce all of the flavors get along perfectly and we're all one happy, delicious family. The whole wheat bun makes for a nice change from your average burger bun. These burgers never seem to disappoint so if you want a sure-fire burger look no further than Ruby Tuesday.
Ruby Tuesday is located outside Guam Premier Outlets (GPO).
So there you have it — Guam's Best Burgers! Now firmly seat yourself, tuck that napkin into your shirt, lean over the plate, wrap your fingers around those buns and dig in, calmly and collected or ferocious and devouring (as always, I won't judge).
About Joel
Having lived on Guam for the past 15 years after his family relocated from Hawaii, Joel has discovered this island to be a home where his heart is. Whether it may be music, photography, amateur filmmaking or most inherently, food, he finds joy in art of all natures. He has recently formed an addiction to travel and while he will never pass up an opportunity to visit somewhere new, he can always tell by that missing rhythm in his chest when it's time to come back home.