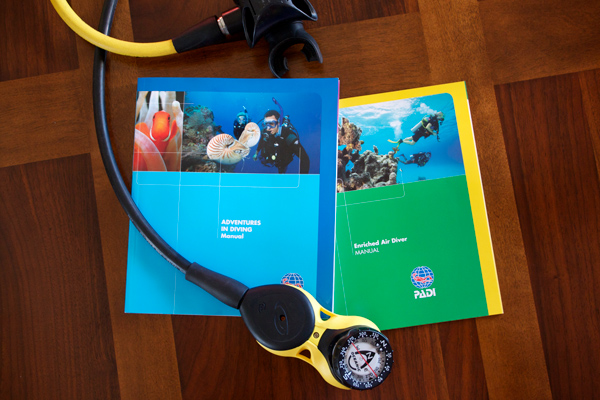 By Christy Sutton
Now that you have your PADI Open Water Diver certification, why limit yourself? With five more dives under your belt, you can have your PADI Adventure Diver certification and PADI Advanced Open Water Diver certification. Prior to taking the Advanced Open Water Diver courses, I was quite content to dive with my Open Water Diver certification. In retrospect, I should have done this much earlier! The course has helped me to become more confident and comfortable in the water. For the Advanced Open Water Diver certification, you must complete:
Then with the assistance of your instructor, you can choose three more Adventure Dives (depending on availability):
AWARE-fish identification
First things first: Register for the PADI Advanced Open Water Diver course at any PADI resort or dive center. I personally like to dive with MDA on Guam. They have a friendly and helpful staff. After registration, you'll need to pick up the Adventures In Diving Manual. For each of the five dives, you will consider a chapter in the book. There is a knowledge review at the end of each chapter to complete and turn into your instructor. Your instructor will contact you to schedule your dives. Prior to each dive, the instructor will go over the knowledge review with you and outline your dive.
My husband and I took the course together. Our first dive was to be at the Japanese Fuel Piers in Apra Harbor. There was a slight catch… MDA should provide you with a medical release when you register for the class. Be sure to fill it out and sign before your scheduled dive days. If you take any kind of medication or have a medical condition, you'll need a doctor's note to dive. On a positive note, Guam doctors are very familiar with this process. It was a Saturday but my husband was able to walk-in, see a doctor and walk out with approval to dive. While we were unable to dive that Saturday, on Sunday we were "good to go."
Our first dive to count towards our Advanced Open Water Diver certification was a drift dive. The water was rough outside the harbor so we drifted, ever so slowly along Finger Reef. Drift diving is the way to go — you just go with the flow! We dove from a boat so we also received credit for a boat dive. I mentioned to our instructor that I wanted to work on my buoyancy. Her instruction helped me to fine tune my descent, which was the one thing that has given me the most trouble.
Two dives down, three to go. We scheduled a night dive on a Friday night at the Japanese Fuel Piers. The most important thing we learned about night diving is to prepare your equipment, as much as possible, ahead of time. Either arrive before dark or work in a well-lit area. Also, make sure your flashlights are ready to go. It's a whole new world underwater in the dark. Some creatures are nocturnal, others will allow you to get closer and some look different at night. The following day, at the same location, we did our deep dive and our navigation dive (in that order). For the deep dive we settled down on the sandy bottom at 90 feet. We compared the depth reading on our computers and dove according to the most conservative reading. We also looked at how the appearance of colors changes as you go deeper.
For the navigation dive, we worked with a compass on land — navigating in a straight line and then a square. Once in the water, we measured our kick cycle — the distance covered when both of your legs complete one fin stroke. To do so, we swam along a 100-foot line and counted off kick cycles. We also timed our swim. Our instructor then took us down to 45 feet. She settled down and we returned to 30 feet to take turns navigating a 100 x 100 foot square. At 30 feet, we had to trust our compass entirely since their was no way to navigate naturally.
To complete the course, we filled out our dive logs to be signed by our instructor. We also had photos taken for our new Advanced Open Water Diver cards. With your Advanced Open Water Diver certification you now qualify to dive deeper on Guam — Blue Hole, Cabras Island, Camel Rock, Crevice, Kitsugawa Maru, SMS Cormoran and more! Read our list of 12 Best Dives on Guam for more information.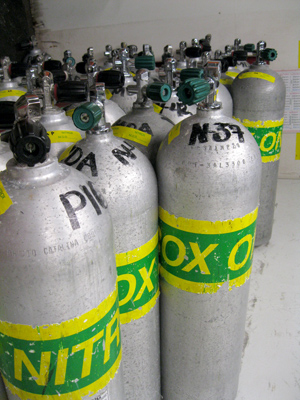 Want more dive time? Take the PADI Enriched Air Diver course. Register for the course, procure the 40-page manual and begin reading. If you don't like reading, there's a video! Upon completion of the manual, multiple choice exercises and Knowledge Review, you'll need to schedule class time with your instructor. In 15-20 minutes you'll learn how to analyze enriched air. As you'll learn from the course, you must personally verify the percentage of oxygen in your cylinder. To finish the course, you'll have to take a 25-question, multiple-choice test. To pass, you must score 80%. No problem!
Why get certified as an Enriched Air Diver? Enriched air allows you to spend more time doing what you love to do underwater. For example, the deeper you dive, the shorter your bottom time. With enriched air, you can stay a little longer. Even at shallower depths, you can maximize your time for photography and exploration.