Adrenaline junkies and nature lovers will agree — off-roading through Guam's rugged terrain is both thrilling and serene. And the best part of Jungle Rules Adventure Tours? You get to drive.
We met up with our guide and trail boss, first getting a safety briefing (keep your thumbs outside the steering wheel) and slathering on sunscreen and insect repellent before we piled in a four-seater utility vehicle. Our three-piece caravan then set out for a two-hour adventure in the southwestern hills of Guam. Our compact but rugged vehicle obliged as we coaxed it through terrain impossible to traverse any other way. Less than ten minutes into the drive and we were face-to-face with the otherworldly beauty of rolling red hills — a kind of landscape rarely seen from the road. If the clay hadn't been red I would have suspected we were on the moon, the earth looked so extraterrestrial — a sort of lunar desert, but with trees.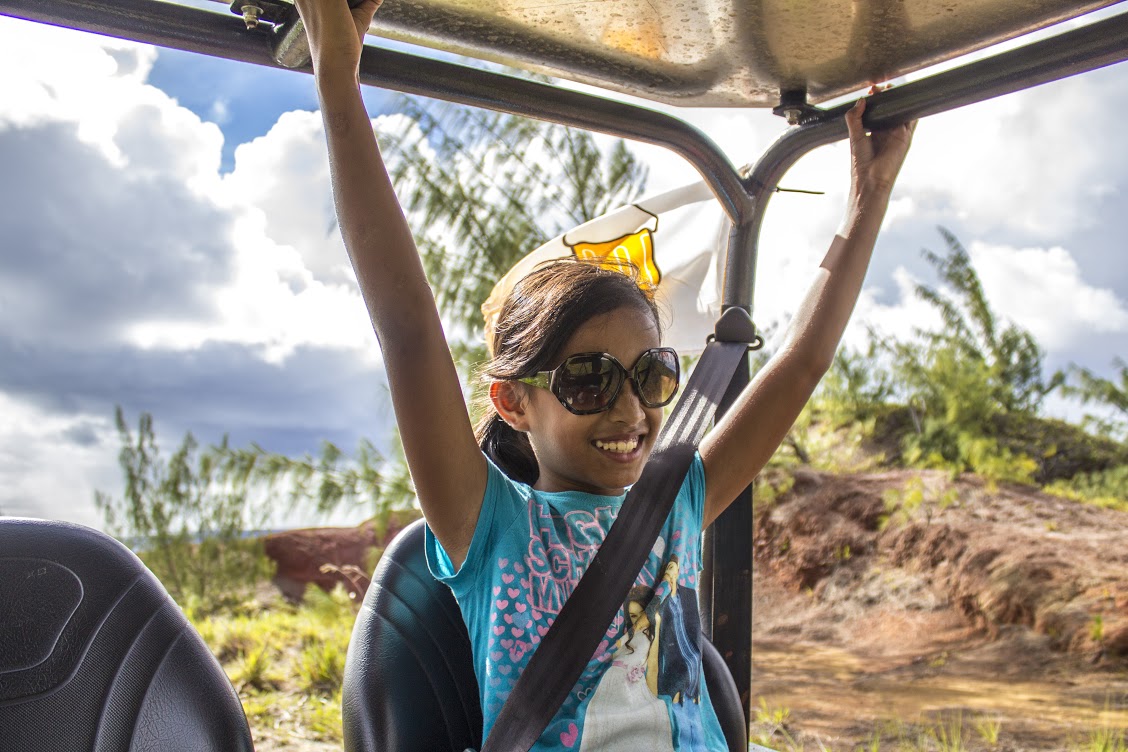 The tour offered opportunity to get out of the vehicles and climb the rocks, discovering breathtaking sea views and red dirt vistas. Gorgeous. Near sunset we perched atop a slim hill with a single tree jutting towards the ocean, admiring the waves lapping below and the lush green cliffs. We saw Anae Island in the distance, boats peppering the water. Is this paradise?
Make no mistake, there are thrills and spills on this gorgeous ride. After all, it is Jungle Rules Adventure Tours. Our driver did not hesitate to fulfill the dare devil desire to speed up and down the dunes, jumping blindly (yes, I did say a little prayer) over steep slopes. This is so much better than a roller coaster. We threw our hands up (well, all except the driver) and screamed giddily. Fun is an understatement. Our guide had saved the best for last.
Editor's Note: Jungle Rules Adventure Tours has been closed since this article was posted.