Sunset Grill
Enjoy some of the island's best sunsets and pizza! Take the beautiful drive down to Asan, and on the beachside of Marine Corps Drive, find a seat in Sunset Grill's open air patio deck. The pizza dough is handmade and grilled in pizza ovens that resemble BBQ pits. This favorite military hangout serves up unique burgers, pulled pork sandwiches, and slow-smoked beef brisket, as well as a variety of beer.
This popular overlook is easy to access and provides spectacular views of the Philippine Sea. Cetti Bay and the chain of a thousand foothills are part of Guam's Territorial Seashore Park. The area is generally considered a geological delight with the rock formation providing clues to the volcanic origins of southern Guam. The twin hills below the Cetti Bay Overlook and to the north, called Attelong Acho, or Black Rock, are examples of pillow lava formed underwater during ancient volcanic eruptions. To the south in the distance Cocos Island can bee seen just off Merizo village.
Westin Resort Lounge
Roll towards your hotel just as the sun is setting and run to the top of The Westin Resort for a snapshot. Amazing! You just might see the fabled green flash just as the sun dips below the horizon.
Two Lovers Point is best viewed at the golden hour. Read the legend of the ill-fated Spanish beauty and her forbidden Chamorro beau — it's Guam's Romeo and Juliet story with every bit as tragic an end. The views of the Philippine Sea and the sharp cliffs are spectacular.
On your drive down south, stop off at I Memorias Para I lalahi-ta, to take in breathtaking vistas of the angular southern hills and the Philippine Sea. You can see the bright orange Spanish Bridge and even the storied Spanish fort, Fort Señora Nuestra de la Soledad, in the distance. Take a deep breath of crisp salty air. Is this paradise?
Pago Bay
Before you start down the hill towards Pago Bay, you take a quick right towards Del Carmen apartments for a spectacular view of the eastern coastline.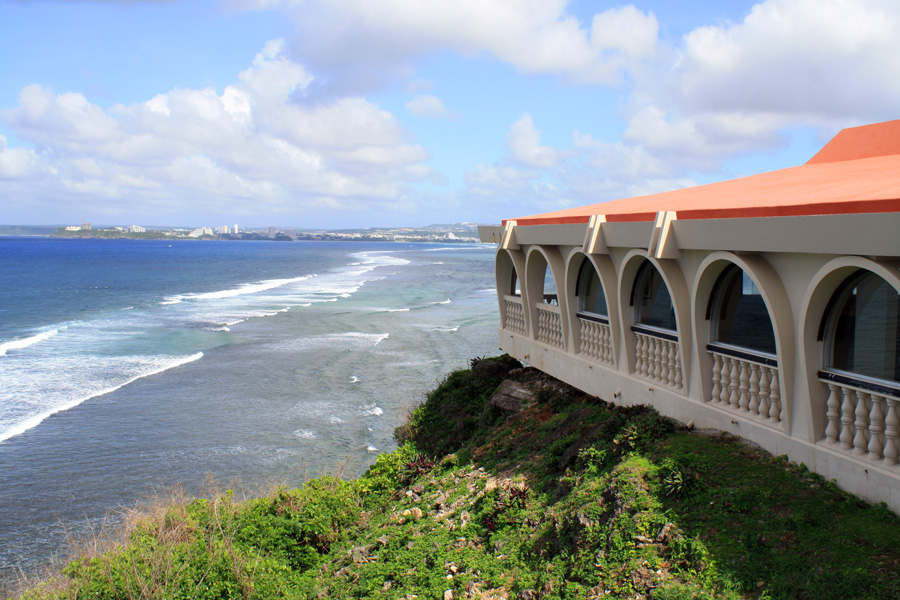 More than a government house, this stop offers ocean vistas from atop the world's largest latte — the Latte of Freedom.
This hilltop vista is a national historical park with sweeping views of Asan and Agana. The spot has WWII significance and signs are posted detailing the locations and events viewable from the hill. Asan Bay Overlook is one of seven sites of the War in the Pacific National Historical Park.