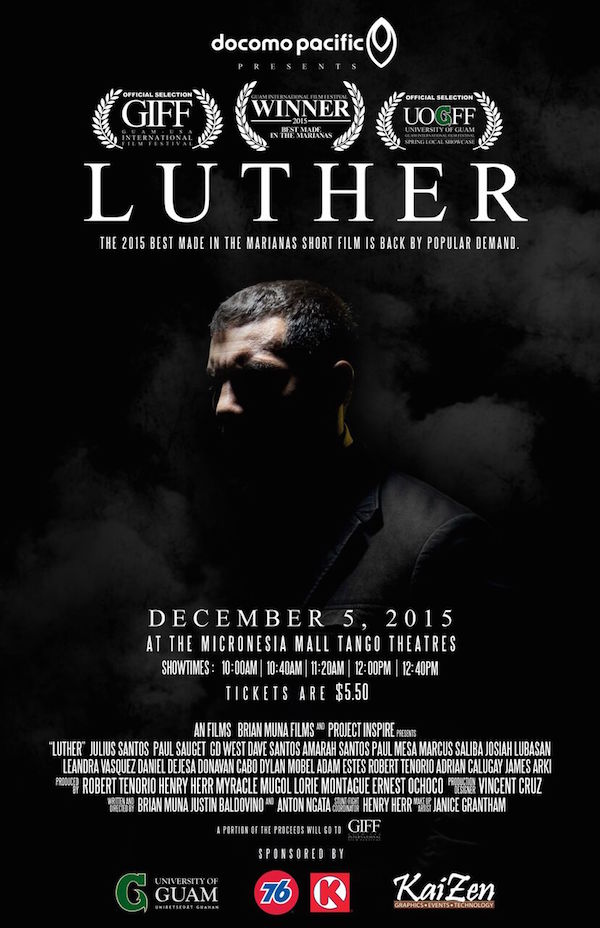 An agent is captured eight years after going rogue and through his interrogation recounts his journey toward losing humanity. This is the plot of "Luther," a Guam film directed by Anton Ngata, Justin Baldovino, and Brian Muna. We asked filmmaker Brian Muna to give us the inside scoop on the making of the film, which won the 2015 Guam International Film Festival Best of the Marianas. The film is back by popular demand on a one-day special screening on December 5, 2015 at Micronesia Mall Tango Theatres. Tickets are $5.50.
What inspired you to make "Luther"?
"Luther" was inspired first by Anton, Justin and I wanting to collaborate on a short film. We felt we all had different but matching styles in filmmaking. It was one of those things where we were meeting at a coffee shop to talk film and then we decided, "Why don't we make a film together?" The hardest part was deciding what story we wanted to tell, then we kept meeting and from there tossed many ideas into the basket. Eventually we thought, let's do an action flick!
Why an action flick?
Initially, when Anton Ngata, Justin Baldovino and I met we were coming from different backgrounds of industry. The one thing we wanted to do was create a film that would challenge us. We wanted to do something big — short film big — so we decided to work on a film that would stretch our creative boundaries. For the three of us, the action genre seemed like the right fit to incorporate all of our styles of filming and from there we decided that we would do an action film.
What was the process like? Any unique challenges to make a film on Guam? 
I originally wrote a short film script entitled, "The Room," stored with all of my other potential film project hopefuls. It was a story I was very interested in telling. I presented it to the guys and we initially used the story as the backbone of the film. Anton, Justin and I began incorporating elements of action into the script; we wanted drama, martial arts, cars… and it evolved into a more internalized story of an agent with action elements.
We held private auditions for the two major male roles of the film. Our two main actors, Paul Sauget and Julius Santos were the obvious choices for the role. Once we secured our fight choreographer Henry Herr, we hit the ground running with pre-production. Each fight sequence was rehearsed for about three weeks before filming. We spent long nights on weekdays after wrapping up at our day jobs just to get things right. We filmed the choreography and Anton, Justin, and I would review the footage, edit it and see if we could work with Henry to either change certain aspects of the fight, or the way we would go about shooting the each scene.
There were many discussions during pre-production on the types of lenses we would use for each scene, everything planned as best as possible to ensure smooth filming during production. Many times, however, last minute challenges would arise and we would have to think on our feet to get the job done.
We were turned down by many locations because of the nature of our film being action with some violence. We had a hard time securing funding to make the film for the same reason. Guam is a family-oriented culture. This type of film appeared to be negative because of the violence associated with it. Who would fund us? We were left with no budget, locations canceling at the last minute, but that never stopped us because everyone that went into the film did it because they believed in the script, they believed in the outcome, and they were willing to put in time and effort. We had a solid team of actors and crew and the true value comes from what is seen on the screen today.
It took three years to make this film reach the screen. Part of it was because of budget constraints, location changing, constant schedule changing (everyone had jobs), pre-production issues, but here it is and we are happy that it has an audience.
Do you consider the film to by hyper-violent?
The film contains depictions of violence; however it is not violent for the sake of being violent. There is a story in there. I would describe it as tastefully violent. I was never a huge fan of gore so there is none of that. Anton, Justin, and I all reached a valuable consensus during the filming of "Luther." We would not shoot something just to make it look cool but instead focus on the characters and do our best to make it entertaining. I have a background in counseling so we actually dedicated time for counseling sessions with our two main actors to discuss their thoughts on the character and even went as far as their childhood to help them "be" as opposed to "act" their roles. I think if I had to classify the type of violent film this is; it would definitely be "tastefully violent."
What aspects of "Luther" represent Guam?
When we decided on Guam as a backdrop, we thought about our audience and felt like we did not want to show the white sandy beaches or the coconut trees. We love Guam, and it is our home but we were also thinking of building a film industry that showed that Guam could house these types of genres without the obvious landmarks. One of our favorite comments is, "Was this shot on Guam?" Our response is that it was 100 percent shot on Guam, 100 percent cast on Guam, 100 percent Guam talent. So in response to what aspects of "Luther" represent Guam… it is the people in front of and behind the camera. It is a collaboration of artists from Guam making a film from Guam touching on a genre with free artistic expression.
What is the future for the film? 
We were excited to win "Best Made in the Marianas" at this year's Guam International Film Festival. Our first step was in response to all the people that did not get to see our film by providing this screening. Not only will we be screening the film, but a portion of the ticket sales will be donated to the Guam International Film Festival for next year's "Best Made in the Marianas" winner. The rest of the money raised will continue to support our initiative for off-island film festival submissions, hopefully more local screenings and at some point move into Video on Demand.
All these initiatives are a small part of a much bigger goal for the filmmakers of "Luther." We hope to raise enough money to either create Guam's first action three-part mini-series or feature film, expanding on the characters and the storyline. Our dream is to complete the story of Luther and at some point use the film as a catalyst to ignite more feature films and build the film making industry on Guam.